Hello everyone,how are you all doing ?I hope you are doing alright.Are you interested into making some money online?
In this post,I am going to review one of the most popular site for online paid surveys,called Survey Junkie.I am going to answer the question,"What is Survey Junkie about ?"
For that purpose,I am going to follow these steps, listed below, to answer that question :
-What is Survey Junkie ?
-How does the Survey Junkie site work?
-What I like about the site
-What I don't like about the site
-Who can join the site ?
After going through each one of the points above,I will give my final thought about the site .
As a matter of fact ,I am confident anyone who reads this, is going to know about the site and I also hope it will help people decide, if they want to join the site or not.
So,let's get started ,
What is Survey Junkie ?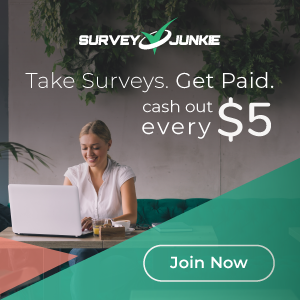 Survey Junkie, is a website where members can earn by completing surveys online.The site connects the voice of its members to brands which are interested into knowing what consumers think about their products or services .
In fact,what the site does,is connecting its members with known brands and companies , brands and companies they love and know.
Brands usually have products or services that they offer ,and they need opinions from consumers so that they can make improvements , modifications ,redesign ,and more.
An overview of the site
Website URL : www.surveyjunkie.com
Price: Free membership
Owner: DISCO,Inc.
Minimum age requirement: 13 years old for USA, Canada,Australia except California in USA where it is 16 years the minimum
How does the survey Junkie site work?
It is one of the most trusted sites for paid surveys online.Survey Junkie has over 10 million members who share there opinion and behavior.
All members have to do to earn ,is answer and complete surveys or share with the Survey junkie site what they usually do ,when they are browsing online.
Here are few steps which explain how it works :
-Sign up and complete the profile
This is the first step on this site,for those who want to earn some extra cash,on this site .
New members have to sign up and complete there profile . They are asked a few simple questions which the sites uses to give to members matching surveys .
All the site needs for initial sign up,is an email. New members can even join using there Facebook or Google account .
– Complete surveys or share your behavior
* Answering surveys
The surveys are generally easy to complete.Members help brands improve their product or services by giving their honest opinion on the product and services and it is done by answering simple questions from the surveys .
The site sorts surveys and matches each one of them with the right members and they appear on the Survey Junkie dashboard .
There are a variety of surveys,short ones which take just a few minutes and sometimes there are also surveys which can take about half an hour to complete.
With that said,it is a good thing for members to be careful when they choose which survey they want to participate in.
A cool side note :The good strategy is to earn a lot by using less time.
Therefore ,in my opinion,it is better to choose surveys which take less time to complete and at the same time, have bigger rewards .
*Share the behavior for studies
It is not everybody who is interested into completing surveys,on survey junkie , each time they login ,into the site. In fact ,it is human to variety ,no one likes to eat the same dish everyday .
As a matter of fact,beside completing surveys,members on this site can also share there regular online activities with survey junkie and get paid for that.
It is called Survey Junkie Pulse.
How to get started with survey junkie Pulse
The site has made this so easy for members.
In fact,to participate into SJ pulse,members can even do this on there mobile phones,once there have downloaded the SJ application .
In addition to that,members who use computers to login, can also get started with this ,by adding the SJ pulse extension in their computer browser.
In fact ,more and more survey sites, have added this option into their menu .
Another example of a survey site which also has an extension Addon ,is SwagBucks ,which i recently reviewed .Make sure you check out my swagbucks review .
– Make money
Members on this site,earn redeemable points for their participation.
In fact,10 points on this site equal $0.10.
From the points members earn,they can choose to redeem them into gift cards, receive cash through their PayPal account or receive cash through a bank transfer .
What I like about the site
This site is among the best,when it comes to online paid survey ,it has a lot of good qualities and many good testimony from current and former members .
The site offers easy and enjoyable surveys
Good customer service
Variety of surveys
The site kept getting better and better through the years until now
The site offers a competitive pay per survey
The site has a rating of 4.45 stars out of 5 on the BBB site
What I don't like about the site
Although the site is among the best,it is not perfect.
In fact ,the site also has some flaws ,like it is for any other site on the web.
Here are a few things I don't like about the site :
The site pays small per survey , it is not a site for getting rich,earning online
Sometimes members get disconnected from a survey,right in the of completing it
The site is not available in all countries
Who can join the site ?
As long as a new member lives in a country where this site is available and has the age requirement met ,they can join .
In fact ,the site is open to anyone who meet the requirements to join .
Students can use the site during there spare time and any other part-time job seeker and anybody who is interested into earning some extra cash can join this site .
It really takes patience to earn on this site and another thing to know is the fact that the site likes members who are active .
In fact,members who are more active on the site,get access to more rewarding surveys and tasks .
Bottom line
Based on my experinece on the site and the multitude of good testimonies, from current and former members ,this site is legit .
In fact ,this site is perfect for earning some extra cash,for anybody ,the only thing is ,it takes patience and time.
In addition to that ,if you are interested into joining the site,make sure you go to the right site.there has been fake sites pretending to be Survey Junkie.Make sure to check the URL,it should be www.surveyjunkie.com not something else .
Visit the site today for more information ,here is their URL again :
How about becoming a full time earner online???
Are you interested into something different,willing to put into some effort, earn big , to even become a full time earner online?
Check out the review I did of my number one go-to site to earn online .
Click the button below to see the review ,
Thank you for reading my review ,I hope you enjoyed it and found what you were looking for.Feel free to visit this site again anytime, to see some more nice articles and reviews .
Don't forget to like this post on Facebook,share it and to also leave a comment.